Its WIP Wednesday time again and I have been fairly busy on the craft front and have even started to make some Christmas presents! I know its only August but I like to be organised. I'm making some pencil folio's for my 2 little boys and one for my niece. I have had a practice run, but I think I've got the idea now.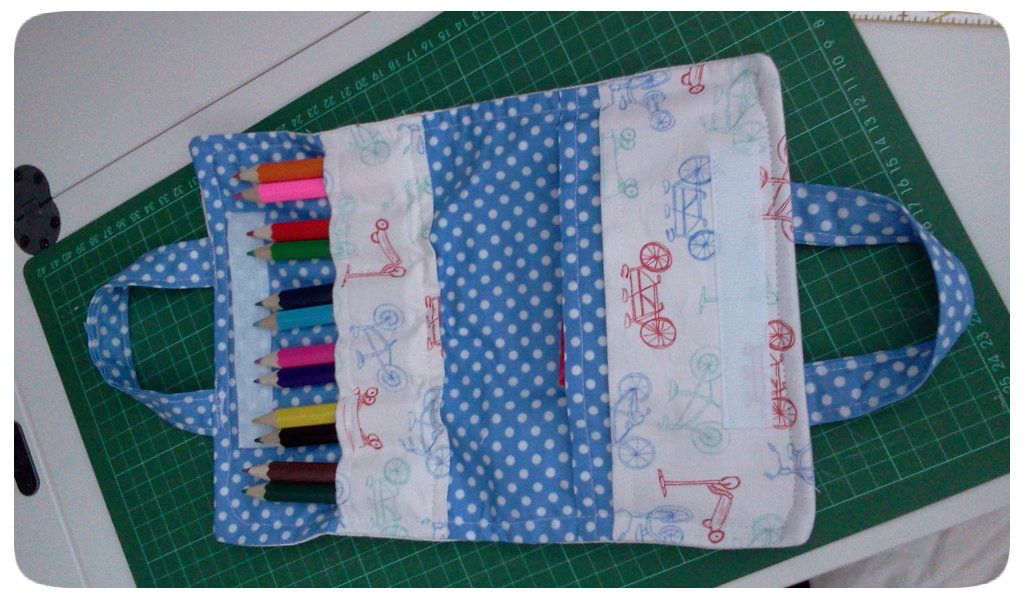 After showing you my basket of blue yarn last week I have started my blanket. I've wanted to do a ripple blanket for ages, but after a failed attempted earlier in the year I've been putting off starting one. Well I started this project last Thursday and I am loving it. Its working up really fast and I am so pleased with the result as it reminds me of the sea. This blanket is going to be for the boys, but I've think I may well have to make them one each as sharing is not their strong point.
With all the ripple action and getting the sewing machine out I have not done anymore of my little cardigan for little W, I really want to get the back done at least by next week and as we don't have any visitors this coming weekend I hope to get some knitting done.
I also have my stool that I wrote about in my last post that I hope to get rubbed down and some undercoat on before the weekend. This is the first piece of furniture I have given a makeover and I am quite looking forward to it. If I am pleased with the results I have a small chest that I keep all my fabric in that I think will get a coat of paint and I would love to cover the top in some Cath Kidston oil cloth........oh and I may have purchased some more wool for my next project!